I've chosen a few projects that you might be particularly interested in, but don't feel limited to these I have listed here. Feel free to click around the rest of my portfolio also.
I'll leave you to it!
UNC Webpages
These are a couple high-profile pages I created, but you will find my work all over their website.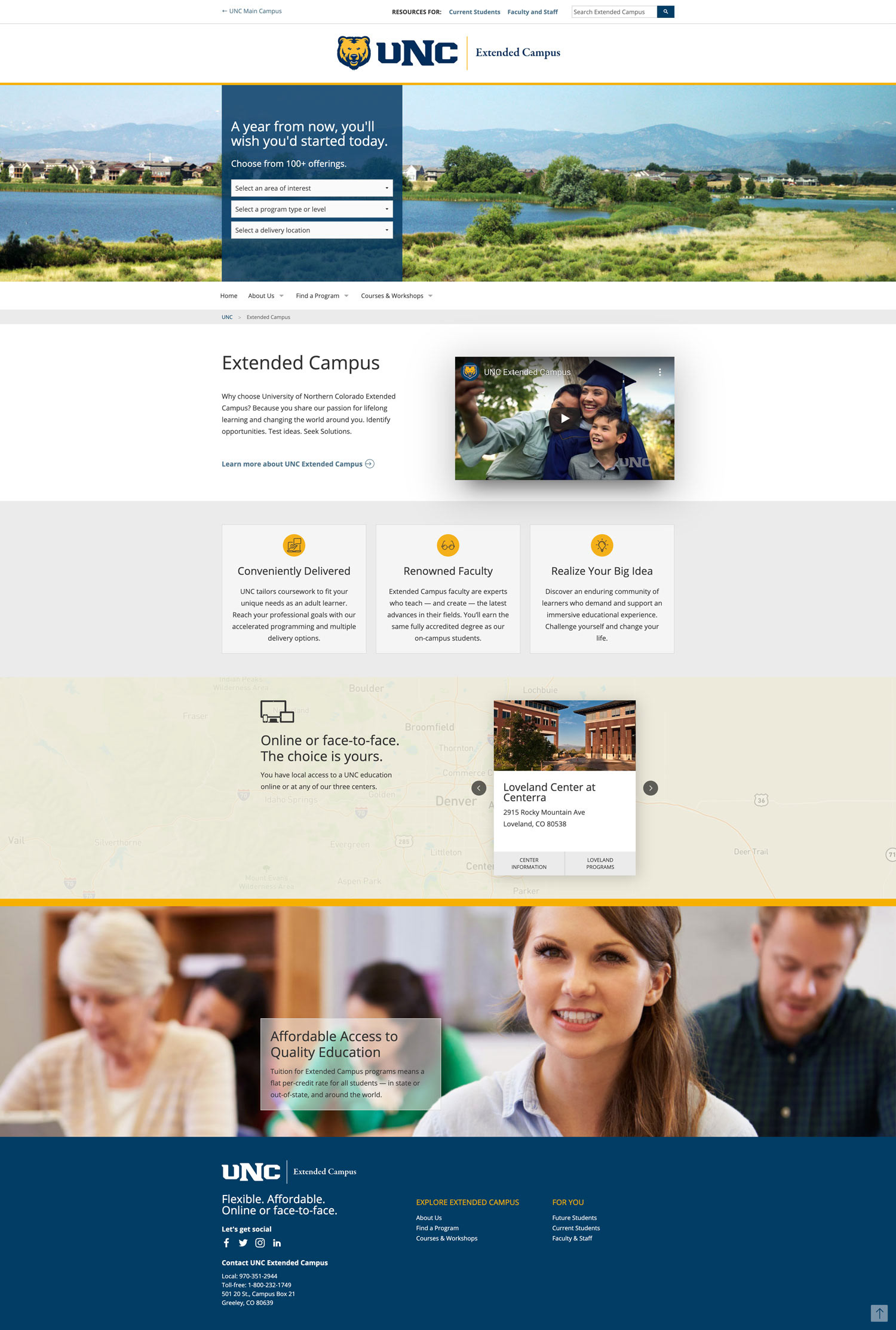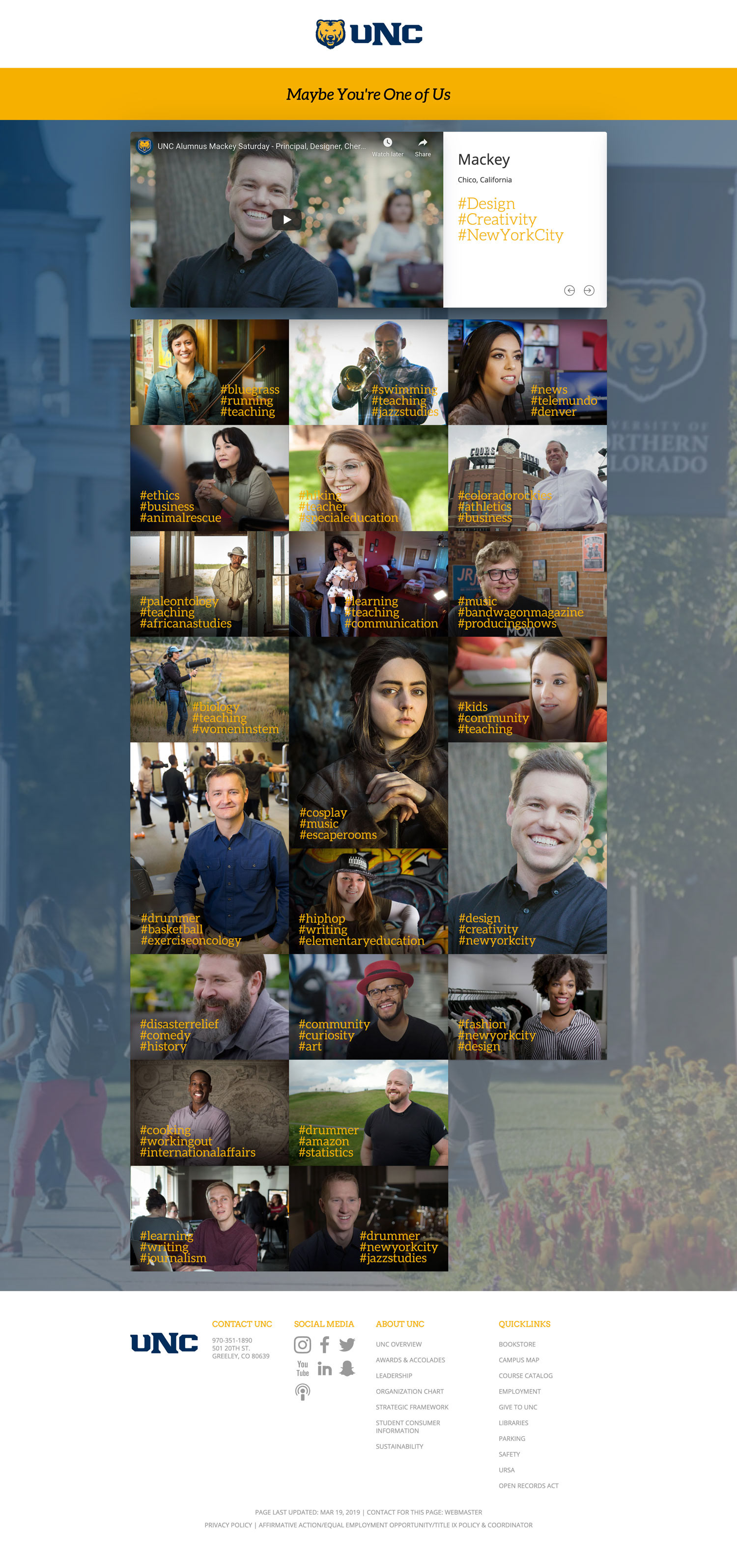 A "what's happening at UNC" campaign for prospective students. A small database on the backend enables marketers to easily add new header videos.
A redesign of UNC's Extended Campus webpage.
A landing page for UNC's "Maybe You're One of Us" campaign. Designed by Elevator and built to spec.
UNC Website Redesign (a concept)
I began working on a "secret" refresh for all UNC web properties in early 2017, devoting many weekend hours to a handful of high-fidelity mockups that were helping me refine my skills.
Even though we had initially planned on launching this version of the website with our new admissions cycle, the design remains a concept.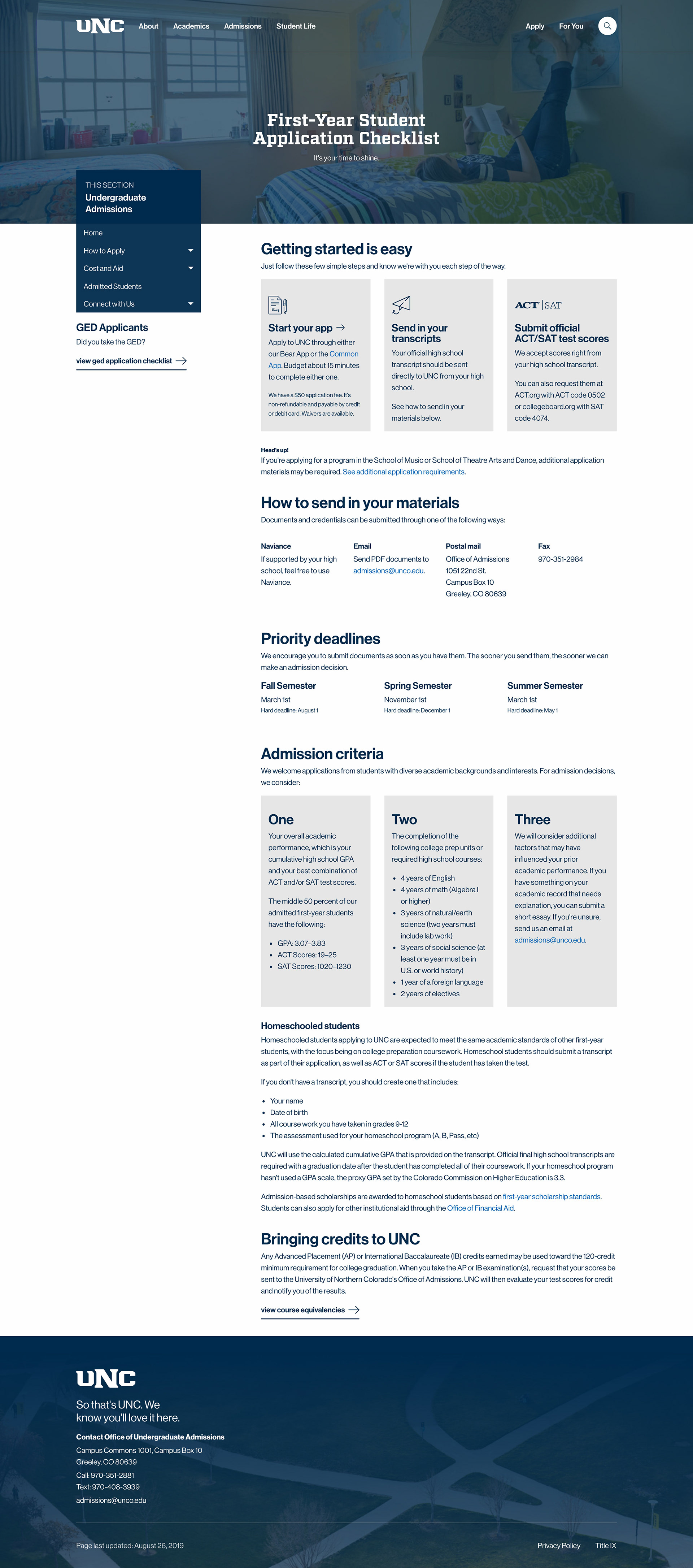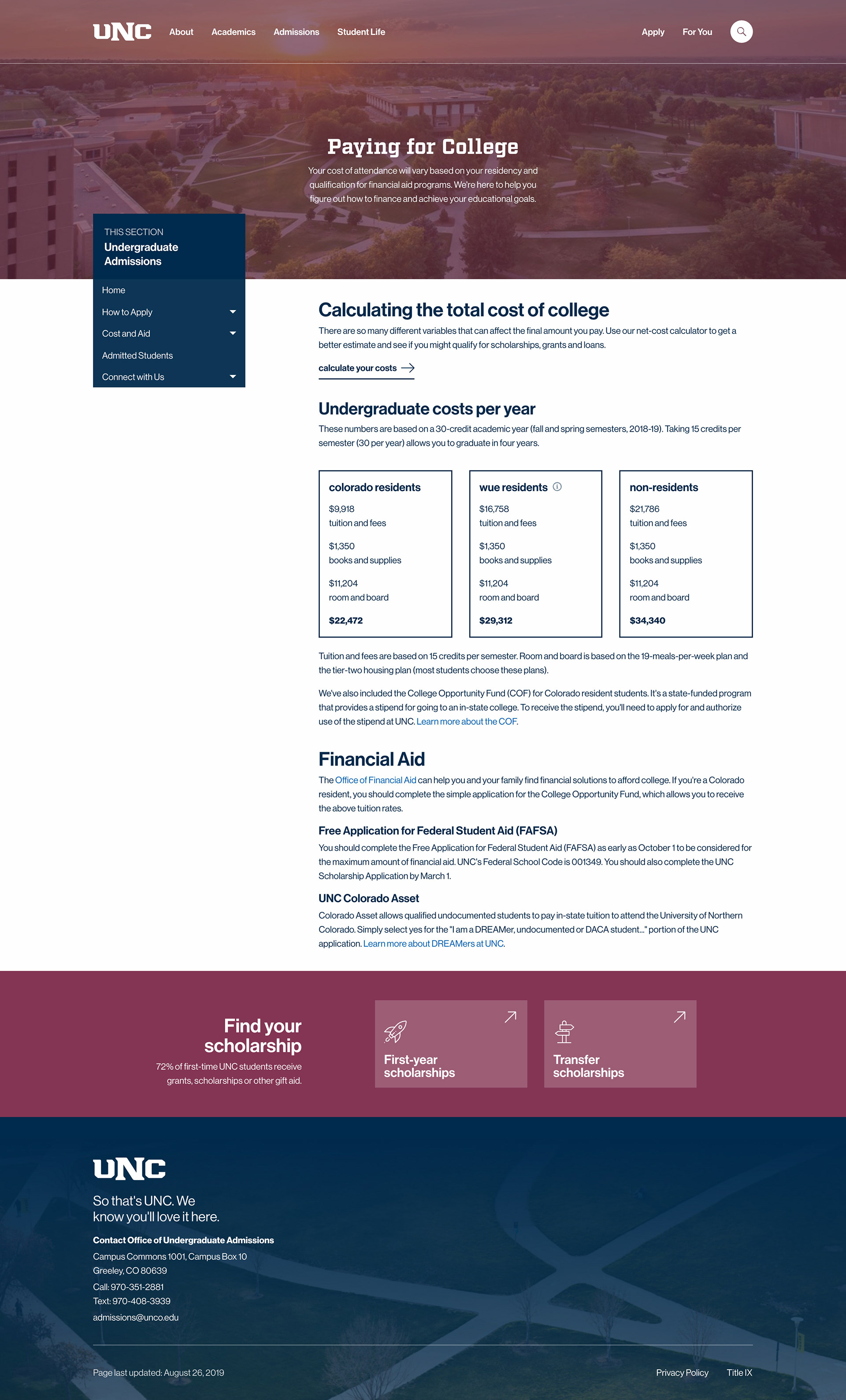 [Request an access code using any @wsu.edu email address.]
The new homepage was a simple 1:1 copy of the content on our homepage at that time. (Don't get me wrong, I think it definitely needs attention to prove usefulness.)
In the admissions section of the site, be sure to check out the first-year student application checklist — our guide to applying to UNC.
My dream was to integrate the cost calculator on this page, but this is as far as I got. I particularly enjoy the tooltip next to the "WUE residents" header (to see it correctly for now, roll over it when it's in the top half of the screen).
Social Media (+ more)
I had big ambitions for integrating social media on our website and across campus, and began an extensive review of social media aggregation platforms (re: 
Tint
, but it was cost prohibitive for our needs). Our CMS was supposedly able to cover the web, but we weren't thrilled with its features.
A campus partner had reached out to me asking to pull in curated posts from their club's Facebook page on our digital signage, but they abandoned the project. I would love to find an opportunity (given enough planning and student engagement) to show student's content on digital signage.

Put yourself amongst a sea of blue and gold confetti and view the Snapchat Lens we used during our Decision Day campaign.
Or....maybe you'd like to try on a UNC hat? One size fits all.
What if I told you that there was a photo of a humidifier that *so accurately* represented you and your name that it was almost freaky? This project is yet another Instagram account following the "What X are you" trend — except I automated most of the image generation process in Photoshop.
Emails Design
My first big venture into email design began with our Free App Day campaign in 2018. However, my support began long before that as I was one of few people in our office that felt comfortable touching code.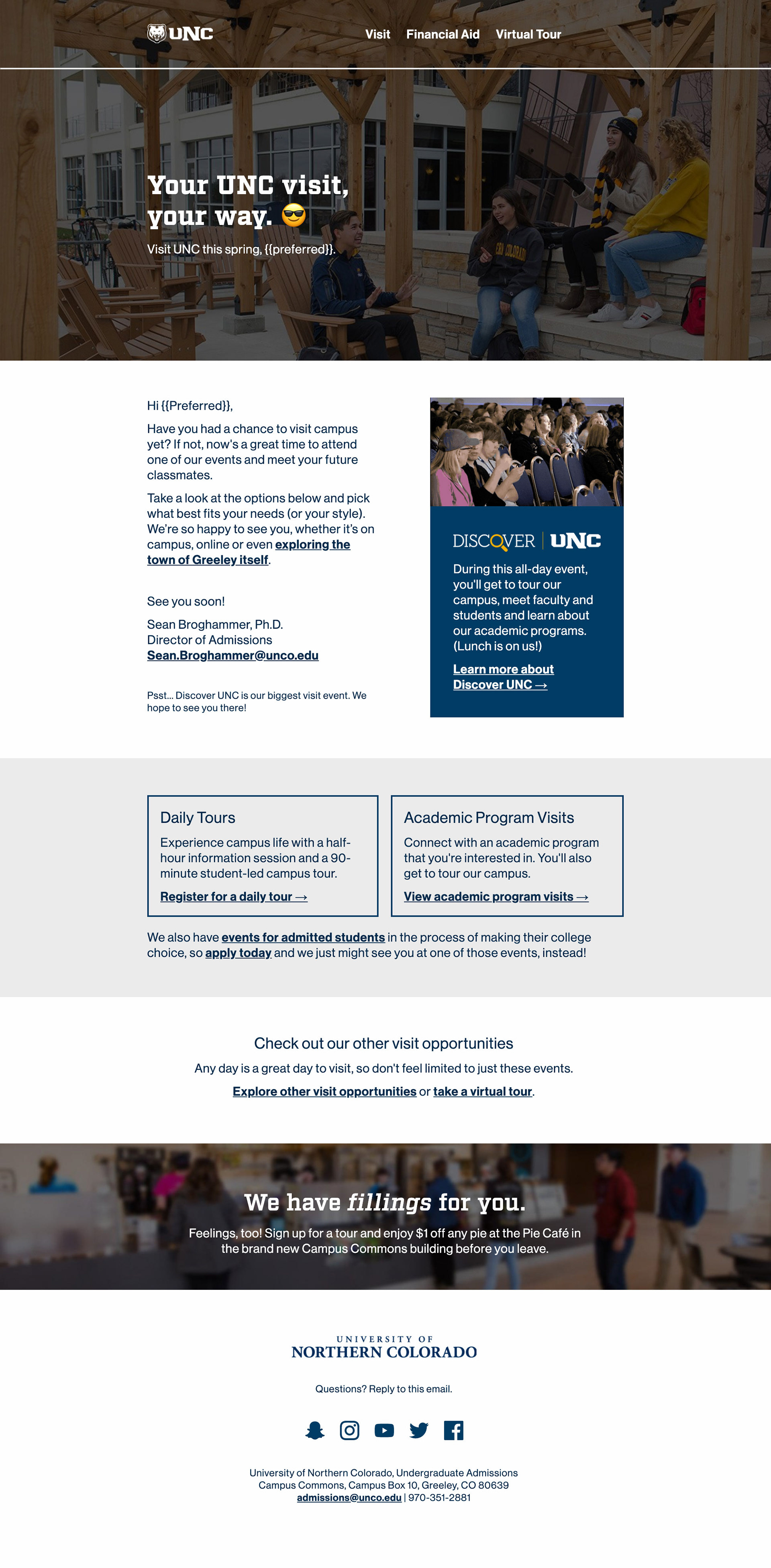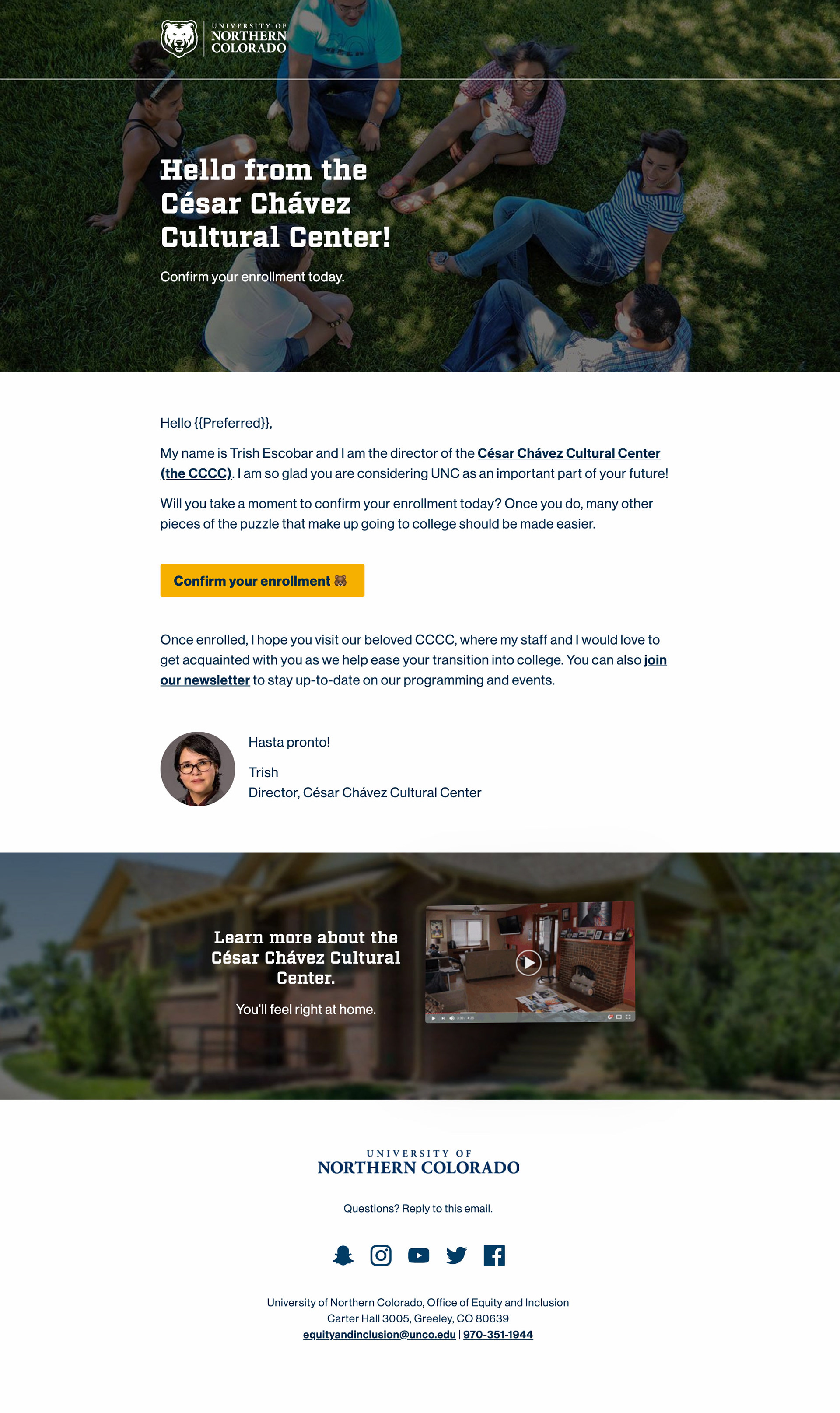 An email for Discover UNC — an event for prospective students. The wide background images proved to be a struggle (I question my decision to use them so extensively every day), but our photographer knew how to frame the shots just right to fit the awkward space — his work really makes the email.
An email to students that showed interest in one of our cultural centers. This version is tailored to students who were admitted but still needed to confirm their enrollment (it wasn't our only confirm email, though!).
A long-form email in our high school counselor campaign. I think this particular one really highlights the versatility of the email framework.
Our Free App Day campaign yielded us the third most applications in the state that day and was one of the largest mailings we sent out after implementing the Technolutions Slate CRM.
Forms and Surveys
I have built a plethora of forms in both Qualtrics and Typeform with a variety of different uses. While working at UNC, I integrated Typeform with our project management workflow and to solicit feedback. I have also used Qualtrics to collect internal event RSVPs.
Below is a Typeform market research survey I built for UNC's student radio. It uses logic jumps and personalization to greet the respondent by their first name.
That's all for now.
I hope to hear from you soon!

+1 (970) 300-2686
But lastly, I would be remiss if I
didn't recognize these fine individuals:
Discover and Destination UNC event logos
Wendy Brookshire
Photography used throughout
Woody Myers + Co.
Videos used in website mockup and in animated GIFs for emails
Andrew Warren and Joy Andrews
Project copy
Rebecca Dell and Deborah Moors
(adapted for web by me)