These are a few projects I'm particularly proud of, but don't feel limited to what I have listed here. Feel free to click around the rest of my portfolio also.
I'll leave you to it!
UNC Website Redesign (a concept)
I began working on a "secret" refresh for all UNC web properties in early 2017, devoting many weekend hours to a handful of high-fidelity mockups that were helping me refine my skills. 
Even though we had initially planned on launching this version of the website with our new admissions cycle to align with our new campaign, the design remains a concept.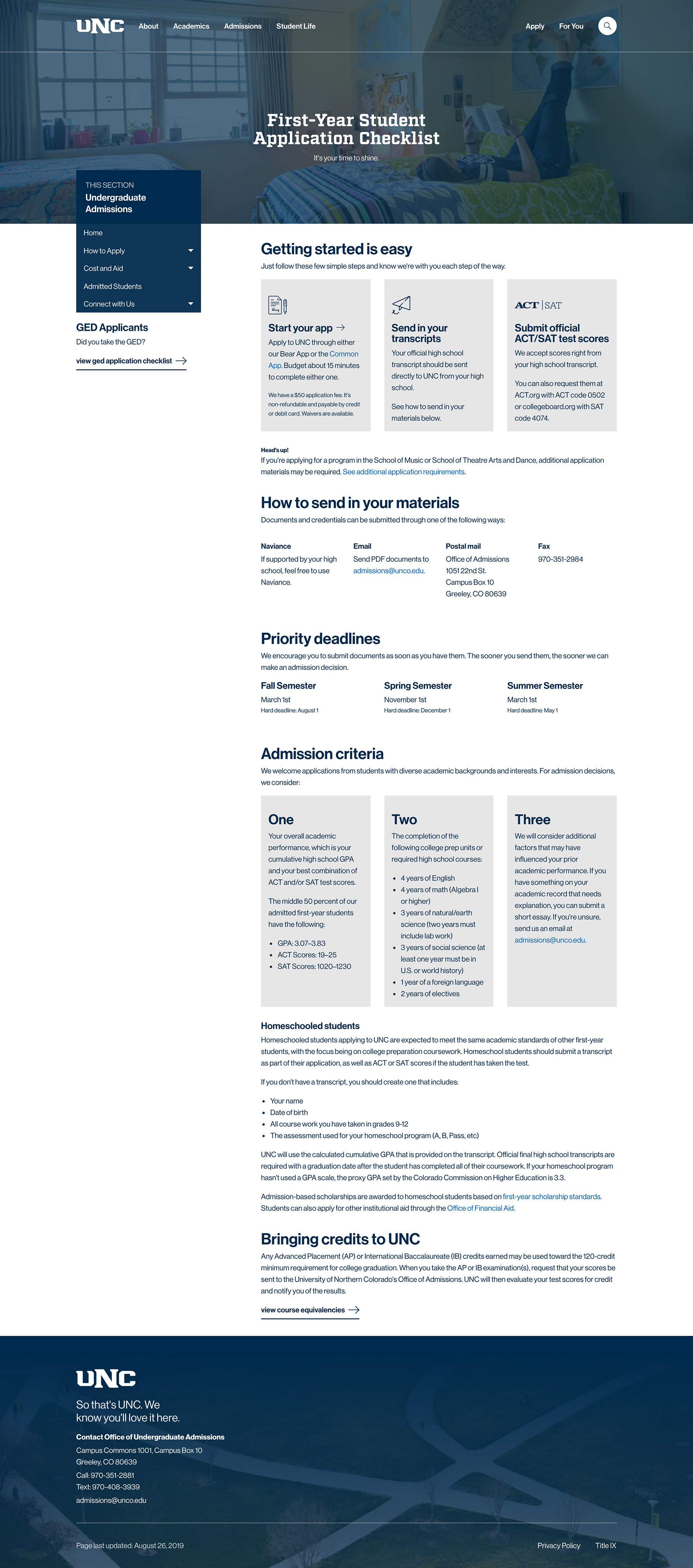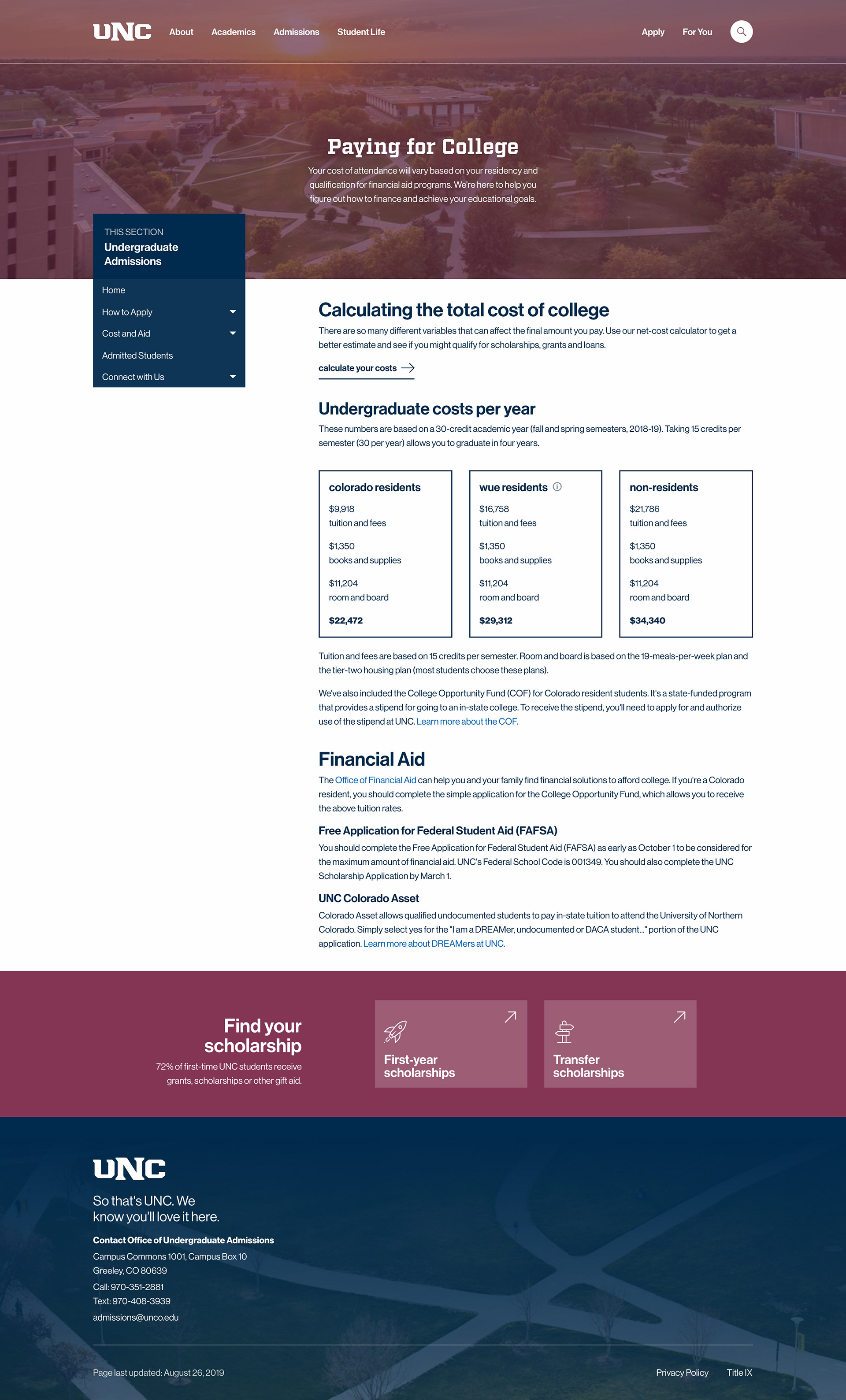 Because of time constraints, thee new homepage was a simple 1:1 copy of the content on our homepage at that time — but with a refreshed look.
In the admissions section of the site, be sure to check out the first-year student application checklist — our guide to applying to UNC.
My dream was to integrate the cost calculator on this page, but this is as far as I got. I particularly enjoy the tooltip next to the "WUE residents" header (to see it correctly for now, roll over it when it's in the top half of the screen).
Other UNC Sites
These are a couple high-profile pages I created, but my work — both large and small — is all over their website.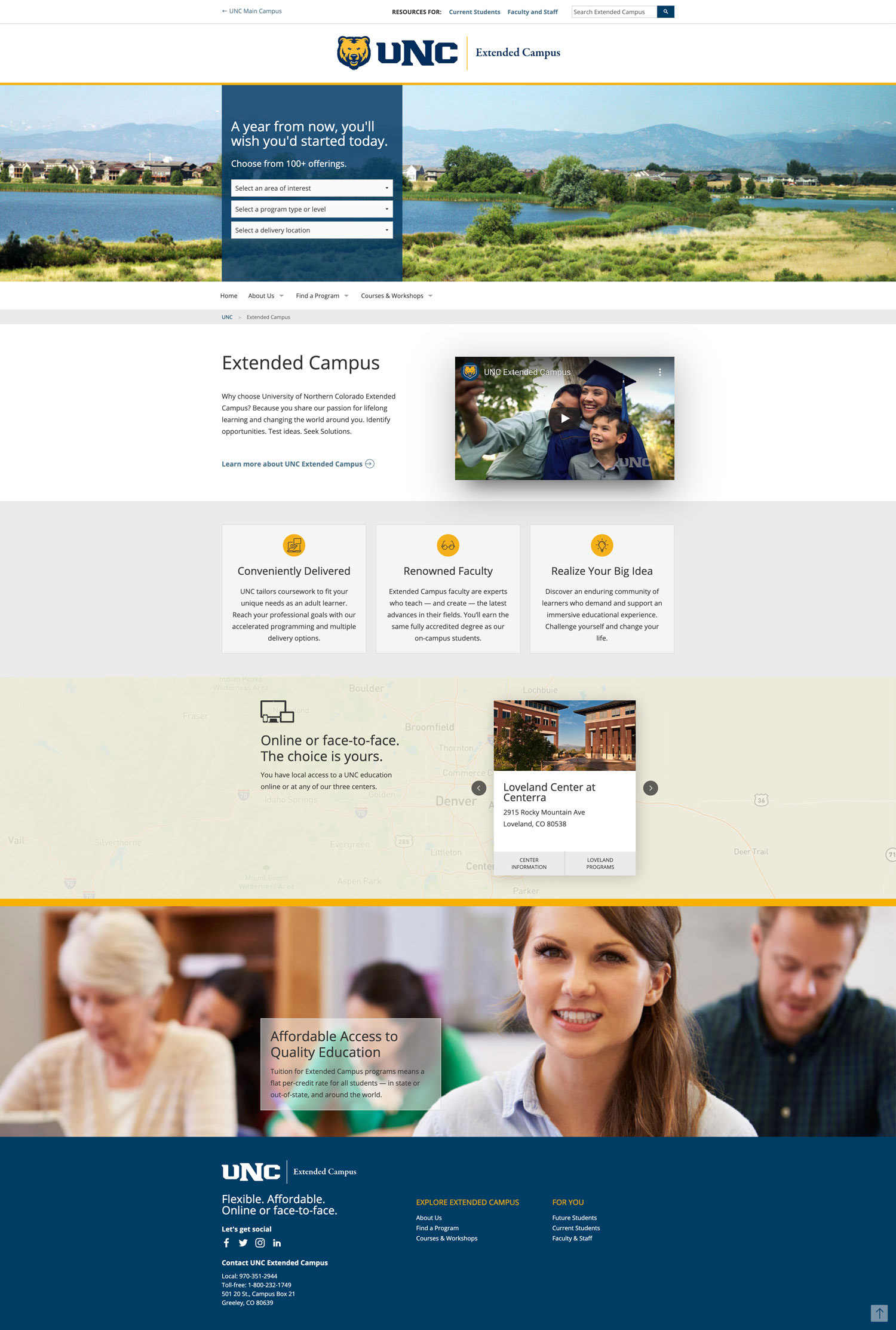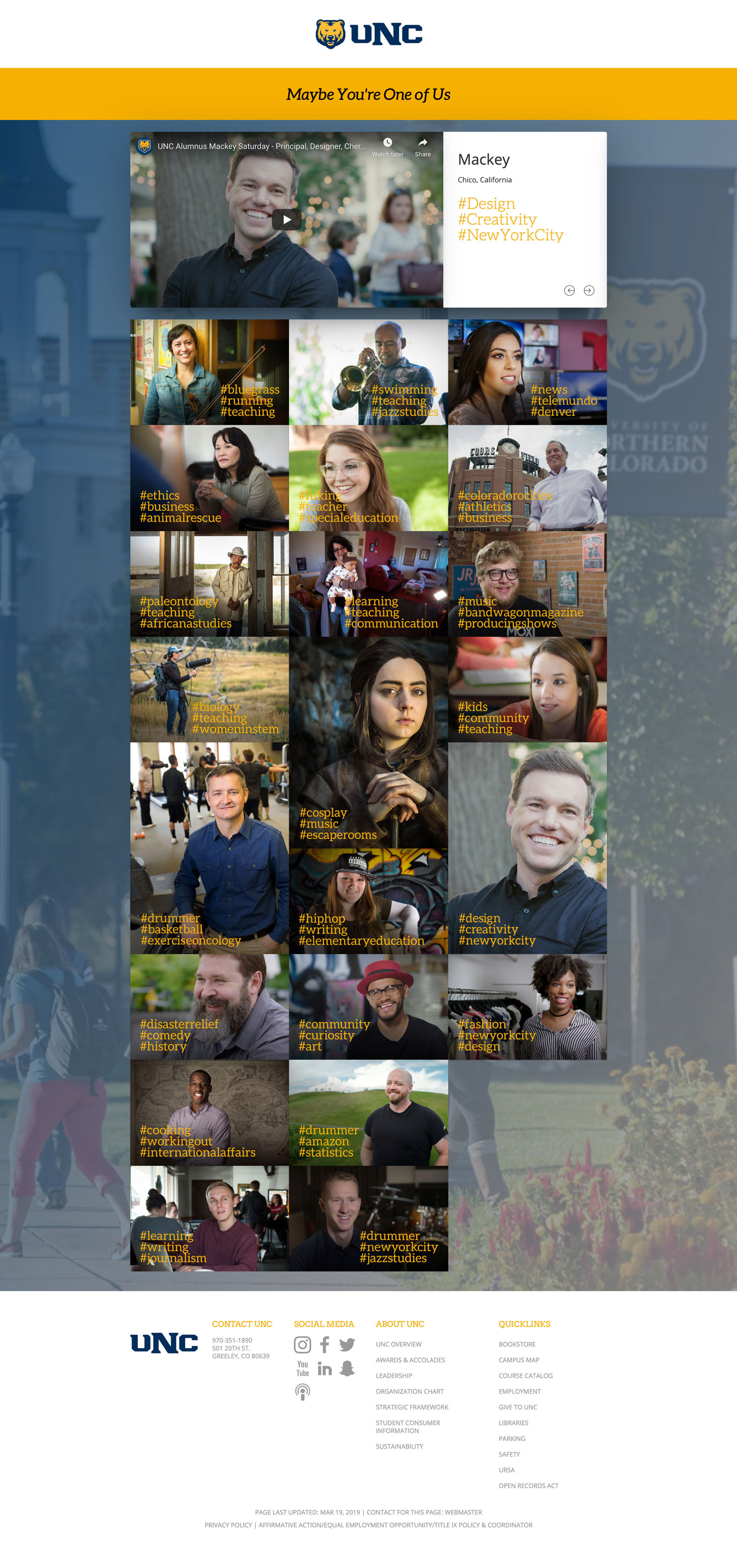 A "what's happening at UNC" campaign for prospective students. A small database on the backend enables marketers to easily add new header videos.
A redesign of UNC's Extended Campus webpage. This design really pushed the limits of UNC's existing branding, but paved a way to more flexibility across all of our web properties.
A landing page for UNC's "Maybe You're One of Us" campaign. Designed by Elevator and built to spec.
Side Projects
Just a personal website I used to learn web trends and marketing automation, and a new WordPress site while I was working at UNC's student newspaper.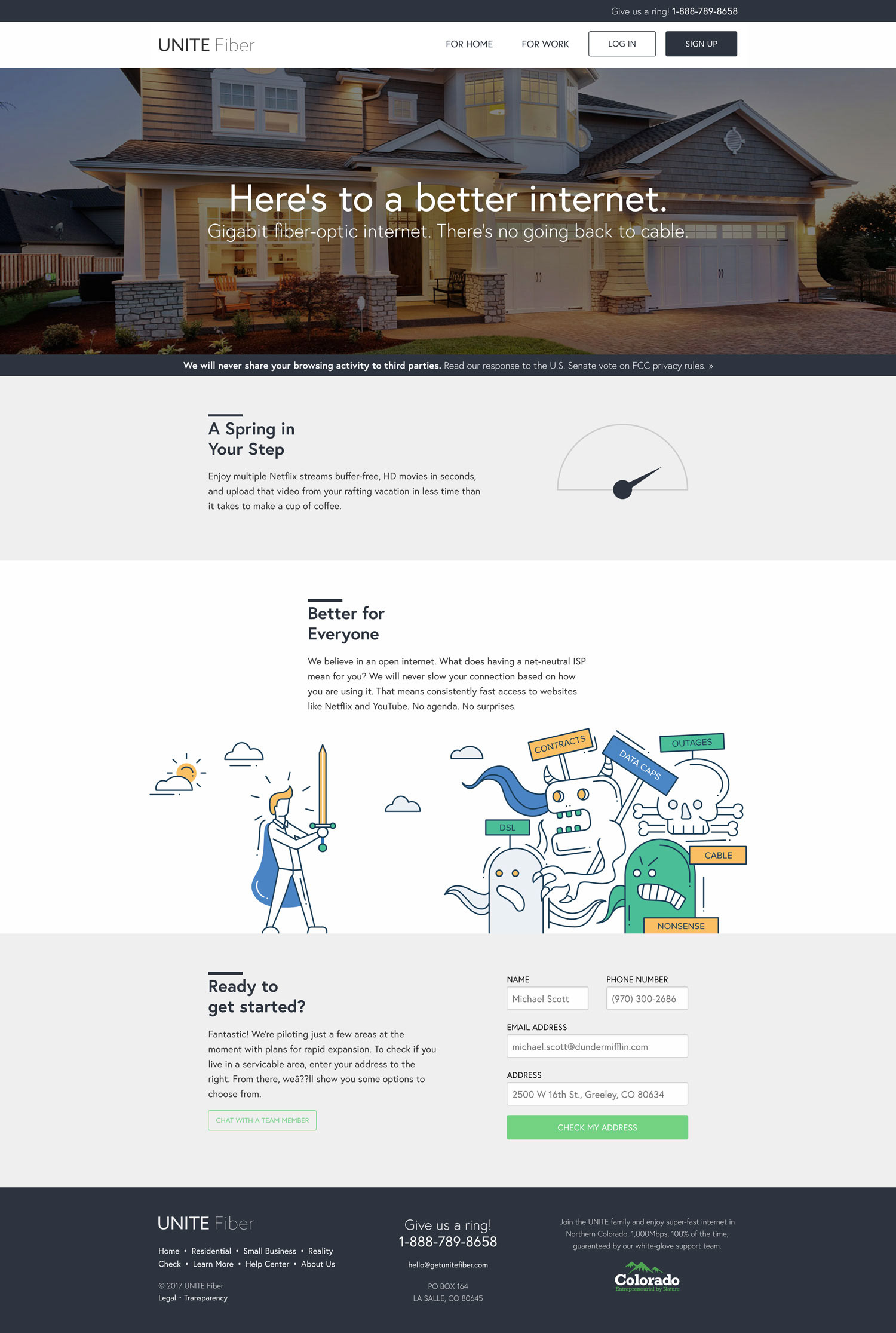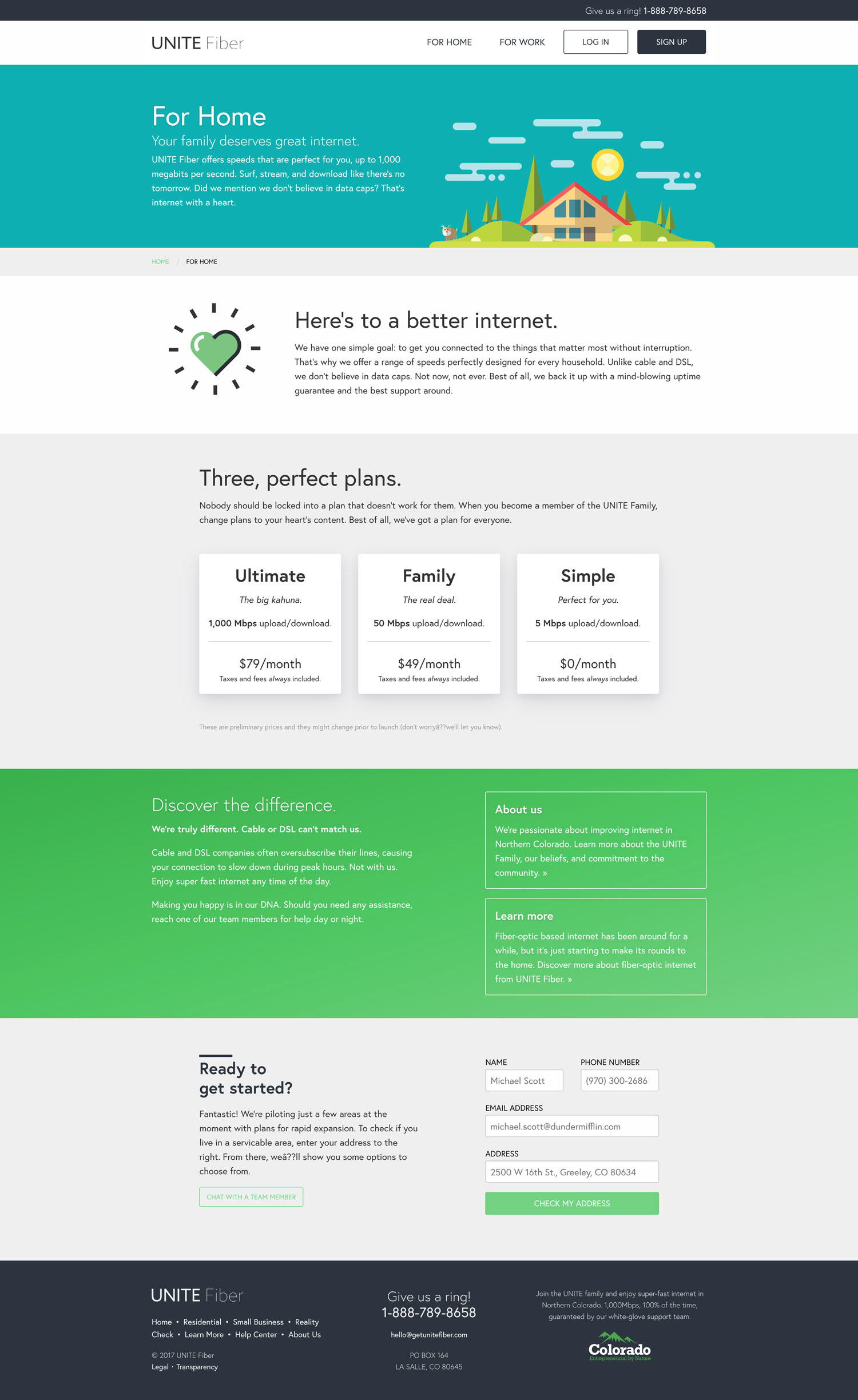 Enter: the best internet-service provider in Northern Colorado. This was my experimental venture into marketing automation. The site is built using ZURB's Foundation and used Autopilot to collect signups and enter customers in the funnel. I'm currently rebuilding the site using Vue.js.
UNC's student newspaper's website was showing its age. It wasn't responsive, and it was difficult for additional editors to log in and post their content. Because we were short on time and resources, I purchased a popular WordPress newspaper theme, set up Google DFP and integrated the site with Apple News.
Emails Design
My first big venture into email design began with UNC's Free App Day campaign in 2018, which netted the university the third most applications of any Colorado college that day. However, my support began long before that as I was one of few people in our office that felt comfortable touching code.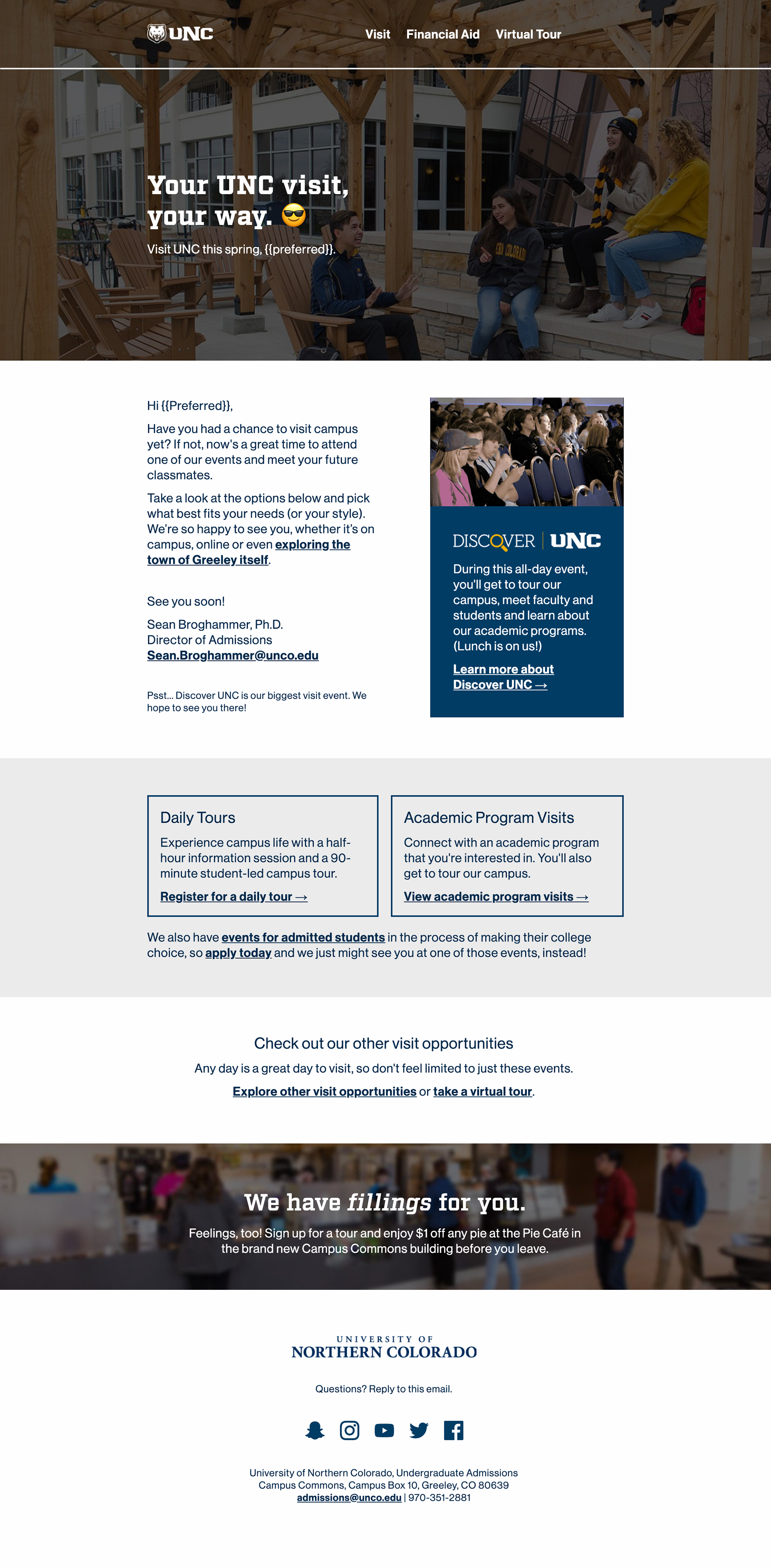 An email for Discover UNC — an event for prospective students. The wide background images proved to be a struggle (I question my decision to use them so extensively every day), but our photographer knew how to frame the shots just right to fit the awkward space — his work really makes the email.
An email to students that showed interest in one of our cultural centers. This version is tailored to students who were admitted but still needed to confirm their enrollment.
A long-form email in our high school counselor campaign. I think this particular one really highlights the versatility of the email framework.
Our Free App Day campaign yielded us the third most applications in the state that day and was one of the largest mailings we sent out after implementing the Technolutions Slate CRM.
That's all for now.
I hope to hear from you soon!

+1 (970) 300-2686
But lastly, I would be remiss if I
didn't recognize these fine individuals:
Discover and Destination UNC event logos
Wendy Brookshire
Photography used throughout
Woody Myers + Co.
Videos used in website mockup and in animated GIFs for emails
Andrew Warren and Joy Andrews
Project copy
Rebecca Dell and Deborah Moors
(adapted for web by me)