Logo system
In the interest of time, I purchased an After Effect template that contained chyron and other show animations and developed a logo to accompany that template.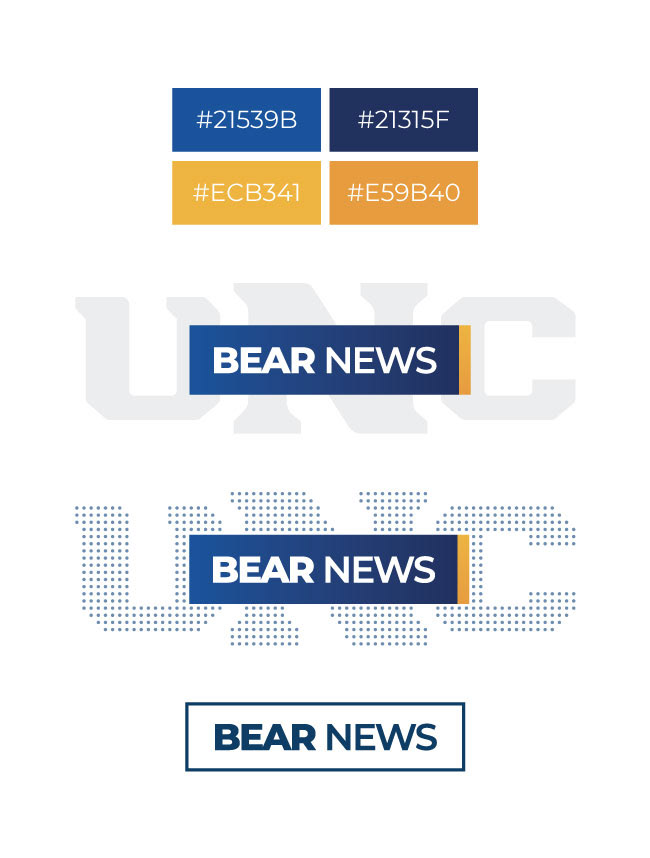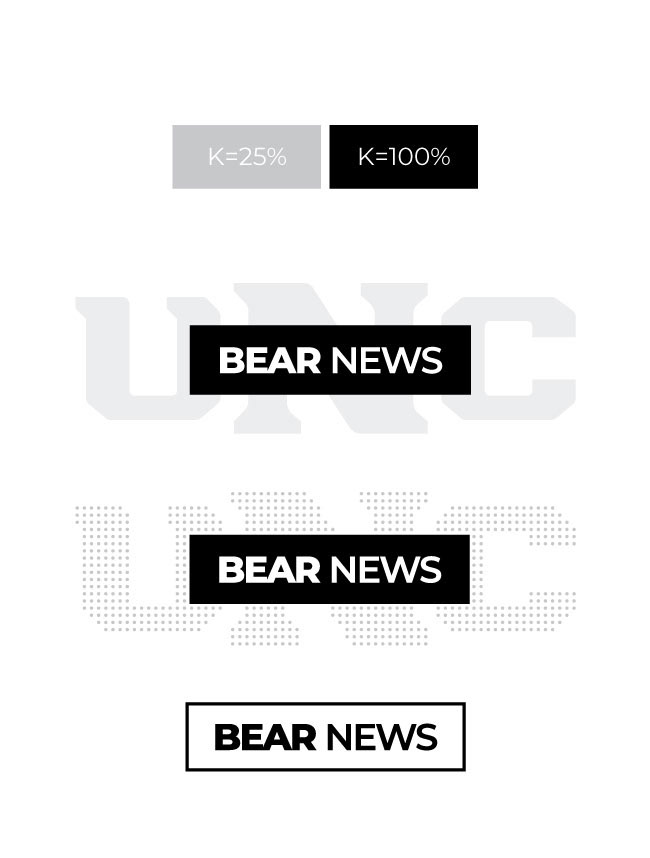 Cybersecurity Shortcomings
April 26, 2018
Long-form broadcast package
[intro] We briefly covered UNC's new password requirements a few weeks ago, but many of you told us you might not be happy with the changes. So, we wanted to learn more about this and other security-related shortcomings. Bear News reporter Logan Garcia is hot on the case and here to tell us more.
[outro] Matt Langford said he hadn't heard any concerns about the new password requirements but is always available to answer questions. Is there something else bothering you? Tell us about it at bearnews.tv.
So Long, Wells.
April 12, 2018
Long-form broadcast package
[intro] Bad news if you've got an account with Wells Fargo... there might bot be a branch in the University Center next year. Both Wells Fargo and the card office push students to open accounts with them, but this perceived convenience might mean drastic changes soon. As Bear News reporter Logan Garcia tells us, nearly 80 percent of students have accounts with Wells Fargo. He's got more about what this change means for you.
[outro] Some good news, there are a couple other Wells Fargo branches fairly close to campus. We'll keep an eye on the process and keep you posted with any updates.
Show Closer — Website Launch
April 12, 2018
Script
[anchor 1] Well, that's our show for tonight. Thanks for joining us this evening. Be sure to look out for us as our reporters cover weekly events around campus.
[anchor 2] Until then, visit our website, bearnews.tv where you can find links to our Twitter and Instagram, catch all of our previous episodes and read more about the stories we cover.
[anchor 1] Be sure to follow us, and we'll see you next week.
UNC Budget
April 19, 2018
Graphics and standup
Cambridge Analytica
March 29, 2018
Story and graphics; standup by Renee Ortiz
[intro] You might be one of the nearly 50 million Facebook users whose information was improperly used by a political consulting company. Wondering what this debacle means for you? Filling in for Logan Garcia, Bear News reporter Renee Ortiz is live in the studio with details.
Account Compromise
February 8, 2018
Story and graphics

If you're a student employee, you might have trouble resetting the URSA password for your first dot last name account.
Information management and technology recently learned about a security threat where twelve employees had their account information reset and W-2 tax forms stolen. As a result, they temporarily disabled the password reset tool. 
While they said no student accounts were compromised, this situation serves as a reminder to be cautious about who you give your personal information to, especially during tax season.
We'll monitor that password reset portal to see when it's back up. In the meantime, you can contact the technical support center to reset your student employee password.
Unrelated to the event, IM&T are now requiring all students to change their URSA passwords every 365 days. If you haven't changed yours yet, be sure to do so by February 26th to avoid being locked out. You can do that right from URSA.

Cheaper Renewables
January 25, 2018
Standup
[intro] The largest utility in the state just might be leading us to a greener future. And as Bear News reporter Logan Garcia tells us, it could also save us some money.
[outro] We'll have sustainable living tips and more information about UNC's sustainability plans on our website, bearnews.tv.